How To Stay Organised While Travelling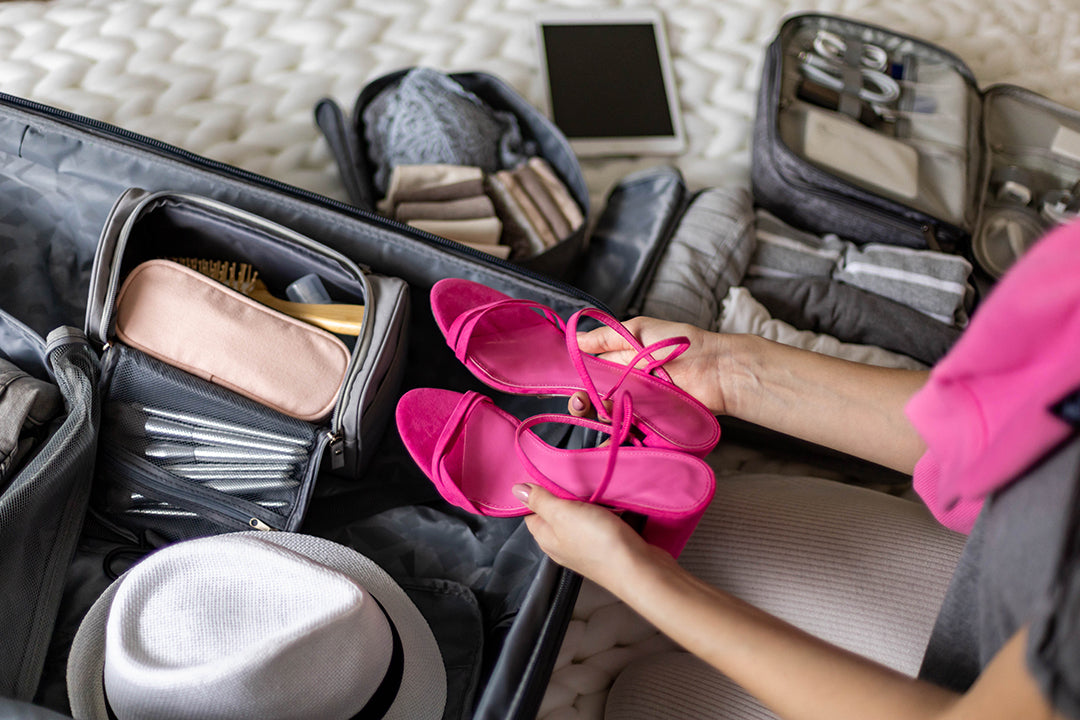 Solstice has arrived, we're well into Summer now and our thoughts are on how to best spend it. And after a torrid fifteen months, the world is beginning to open up again with more countries added to the safe list as options for travel destinations. If you're thinking of getting away, or have even booked your trip, staycation or holiday abroad, let The Karry London provide you with helpful tips on how to stay organised while travelling so you can have a stress free and enjoyable trip.
It was the neat freak in us which decided to come up with the idea of The Karry. Ginny, the founder it has to be said, loves being organised. Not that she was always like that! But her love for travel combined with a loathe of taking way too many skincare items (not to mention clothes shoes and everything but the kitchen sink!) got her to rethink the way she travelled. In creating a sustainable, small and lightweight and easy to pack travel set for all her must-have skincare products for he trips away, being organised for her travels was a revolutionary moment in her life! Here she shares her 5 top tips:
Before You Go:
Planning.
This is one of the simplest and most effective organisational hacks ever. Our heads can be so full of the prospect and excitement of going away, that we forget about planning for it. Thinking ahead and planning from what we will take, wear and do when we're on holiday is the backbone of being and staying organised while travelling. Write it down too! We can come up with a plan in our heads but remembering that plan is another thing. Jotting it down on a notebook, or in your device, means you can come back to it, add to it or amend it so nothing is left out. Imagine reaching your destination and realising you forgot that cable, or swim goggles, or to book the excursion from the UK you kept reminding yourself! Lessen that stress, make a list and tick off the items as you go along.
Getting Ready:
Pack Your Essential Items.
Pack small, pack light, and only pack your essential items. Packing your essential toiletries can be a nightmare. If you're like me, you'll want to take all your lotions and potions. After all, you want to look amazing. But don't fall into the trap of overweighing your luggage with full sized products. One of the many benefits of The Karry, is that you can take your tried and tested, favourite, must have skincare and beauty products with you in small miniature recyclable and reusable glass bottles and jars. By decanting your skincare products in the recyclable glass bottles and jars which are TSA compliant (and meet the airport liquid rules), your suitcase will be so organised and lighter, you'll have plenty of space for your souvenirs and holiday purchases.
One Bag for All Your Electronics.
There was a time when packing your electronics meant making sure you had your mini kettle, iron and hairdryer! Now it's the gadgets which thank goodness help make our travels a much better experience. From your device to its accessories, to those electronics which will keep the children and you entertained, keeping them together is a great way to ensuring you come back with them. Having been on a holiday with a young teen who lost her newly bought music device, losing an electronic is not a pleasant way to holiday let me tell you! A bag, one which ideally has compartments can be used to store the electronics you plan to take with you. Keep the accessories like chargers, plugs, battery packs, in one compartment for ease. Having the one bag secures in your mind where everything is, thus minimising the chances of losing or forgetting those items. No long lost item claim forms for you.
En-Route:
Go Digital.
Use technology to manage your trip. Chances are you booked your vacation online? Why stop there. Remain in the online world and store all your bookings, tickets, insurance details, itineraries and reservations on your Android/Windows/Apple devices. Make sure to download as much as you can so you will be able to access them off-line too and most importantly, that you have a battery bar for charging your device should you run out of power. A top tip which is not digital but can be used to store your digital device in, is a small A5-sized wallet/pouch. I have a very girly pink leather pouch by Osprey London which I use to keep my Apple device (which has my boarding pass and other essential travel documents such as hotel details and insurance information) my passport, suitcase keys, small purse, earpods, house and car keys, sunglasses/reading glasses, small tissue pack and in these times my face covering and hand sanitiser. This means I have all my travel essentials to hand all in one convenient place. Organisation heaven or what?!
On Arrival:
Unpack Immediately Upon Arrival.
One very disorganised way to be while on holiday is to live out of a suitcase. Even if your trip is a short one, always unpack shortly after arrival. Fold clothing and hang up those items which may wrinkle. Put your toiletries in the bathroom, unpacking the items ready for use. All of this is space permitting. If there are no wardrobes or drawers, find designated areas to put your stuff away, especially your luggage. The space will instantly feel tidier and roomier, and you'll feel more relaxed and at ease with this organisational tip.  Don't worry, unpacking will only take a few minutes so won't be eat into precious holiday time.
Last Top Tip:
The Karry London is all about reducing our plastic consumption. The Karry travels set is a sustainable travel set for all your skincare and beauty products. We use glass and biodegradable materials and doing what we can to have more sustainable materials throughout. Help us in our mission to help the environment by using less plastic. Please consider your plastic usage as you organise your packing.
This article was written as a guest post and appears on www.homefullness.co.uk the luxury home organisation & styling company.
---